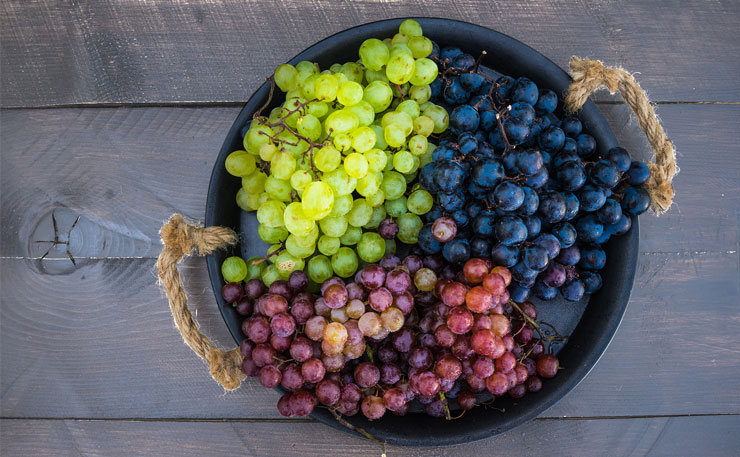 Fruit of the vine. A climbing plant with a prominent presence both in ecclesiastical tradition as well as in antiquity. Homer wanted his heroes of the Iliad and the Odyssey to consume the grape, exalting its virtues but also stressing the woes of its abuse. The vine dominates the hieroglyphic inscriptions while people in the frescoes are portrayed cultivating vines or gathering the grapes. To the grape we owe the must, the wine, the currant. All, inseparably linked to our Mediterranean diet and the joy of our lives.
The grape varieties

There are many types of grapes, which is why they are roughly divided into three main categories: "white" (green), pink and "red" (purple). Among the best known Greek grape varieties are names like Agiorgitiko, Moschato, Savatiano, Athiri, Assyrtiko, Kotsifali, Malagouzia, Black Corinthian, Moschofilero, Xinomavro to name but a few.
Precious for the body
The grape is a valuable fruit for the body. It has a high water content while at the same time it is rich in antioxidants such as lutein and zeaxanthin. The grape is rich in polyphenols and an important source of fiber.
Ideas on how to consume the grape
A bunch of grapes is never enough and is always enjoyable on its own. The grape, however, can take you even further: Halve some grapes so they release their juice; add them to a green fresh salad with prosciutto and parmesan: the effect will be absolutely delicious.
You can enjoy the grape over breakfast, adding some in your yogurt with granola and honey. And of course, do not forget to take advantage of its abundance in August, to make homemade grape spoon sweet and grape jam.
Jars that remind you of mum, which will accompany you throughout the winter. You will enjoy them with your yogurt, over a scoop of vanilla ice cream and during breakfast, on toasted slices of bread with butter.